Ella Proprietary Dual Drain Technology
Ella T-Type 4 Port 2″ Dual Drain
Ella's Bubbles is dedicated to providing the finest, safest and most convenient walk-in bath experience. A main part of that experience comes from our proprietary Dual Drain Technology – the fastest gravity driven drain system in the market.
Most of Ella walk-in bathtub models are equipped with two (2) Dual Drains, two openers and two overflows allowing this dual drain to effectively drain the tub fast and reliable. This exclusively designed dual drain and overflow system allows for the drain to be vented properly and release the air pockets which makes the draining faster with less resistance.
Two drains with 2 ADA compatible openers also provide an extra layer of safety should one drain ever clog.
In comparison, the standard bathtub drain size is 1½", while Ella's Dual Drain Technology features four (4) 2″ drain openings. The Dual Drain comes with two 2″ port caps, allowing two of the four ports to be plugged depending on the direction and location of the house drain to be connected. All four ports can also be connected to the house drain for the fastest possible gravity draining. For fastest possible drainage, we recommend connecting all four 2″ ports to a 2″ or 3″ house drain. If possible, a Y-connection should be chosen over a T-connection for less resistance and faster flow.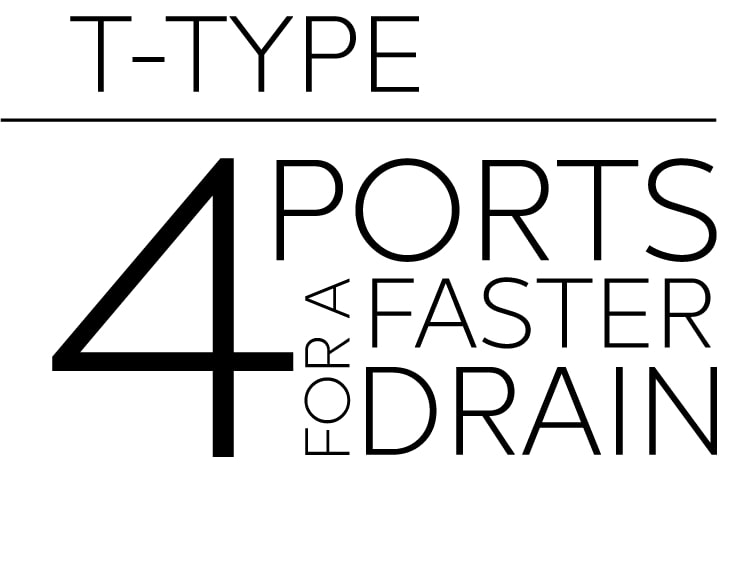 Ella T-Type 2 Port 2″ Dual Drain
Few smaller Ella walk-in tubs like Front Entry and Mobile are equipped with one dual drain and emergency pull up chain. Should an emergency occur, your tub will still drain quickly and efficiently. Faster drain times, means minimal wait times.
Note: Single 2″ Dual drain with pull up emergency chain available on Ella Standard, Front Entry and Mobile models.
THE ONLY
WALK IN BATHTUB BRAND
IN THE INDUSTRY WITH
DUAL DRAIN TECHNOLOGY
top
bottom
For added security and exiting efficiency, Ella acrylic walk in tubs feature two 2 inch drains. No need to wait long, the gravity driven DDT allows the tub to drain in approximate 80 to 120 seconds depending on water volume, bather's body size, and house drain conditions.
Values
Dual Drain Technology
Conventional 1 1/2″ Drain
Pump Assisted Drain
Drain size and count
Four 2″ drain ports (drains)
One 1 1/2″
One 1 1/2″ or 2″
Opener count
Two (2) drain openers
One
One
Overflow count
Two (2) drain overflows
One
One
Drain Time (Approximate)
50 seconds to few min *
5 to 15 minutes
1-2 minutes **
Drainage Type
Gravity driven
Gravity driven
Electrical powered
Design
Proprietary design
Standard / Common
Proprietary design
*Depending on size of the walk-in tub and house drain condition.
*Largest walk-in tubs like ShaK or Big4Two can be 2-3 times larger than standard or small size tubs.
**Average size walk-in tub
Frequently Asked Questions
How long it will take to drain my walk-in bathtub? 
The draining time of the walk-in tub will depend on the water capacity of the tub, the complexity and condition of the house drain, and the walk-in tub drain. The approximate drainage time for average size Ella walk-in tub can be around 80 seconds at ideal house drain conditions. The Ella 4 port 2-inch dual drain can be connected to the existing 1 ½" or 2″ house drain with T or Y connector. Common connection to Ella dual drain is to two (2) out of 4 ports depending on the location of the house drain.
For example: if the house drain is located on the left side then the Ella walk-in tub should be selected with the right side drain, and the door with the seat on the left side so there is enough space to add a T or Y connector and needed piping. All four (4) 2″ ports (2" outlets) can be connected to the house drain for the fastest possible drainage (suggested). That will depend on access to the house drain. Please verify all drain connection options with your experienced contractor.
Please make sure your house drain is tested by an experienced plumber and is in good condition before installing the Ella walk-in tub.
Aren't powered drains faster and pump water out quicker? Comparing Fast Drain, Quick Drain, Drain Pump vs. Ella Dual Drain Technology.
Yes, it does drain faster however while hydro pump pushes the water through the drainage system faster it also applies lots of pressure to the walls and fittings of the house drainage system and can damage that especially if that is old or if there are some weak spots in the sealed joints. The electrical supply to pumps can fail and therefore can create situation were draining of the walk-in tub will be very slow or difficult.
Ella proprietary Dual Drain Technology is the best gravity driven drain in industry and it drains fast and reliable.